THE ART OF BREWING AND COOKING
Während einer Umbauphase von fast einem Jahr wurde das Wirtshaus im Paulaner am Nockherberg kernsaniert und die Brauereigaststätte dabei modern und authentisch umgestaltet. Zentrales Element ist heute die hauseigene Brauerei, um die sich im wahrsten Sinne alles dreht. Das Bier und der Brauprozess sind das ganz zentrale Thema.
Jeder Gast findet im neuen Paulaner am Nockherberg seinen Platz und ein Angebot nach dem eigenen Geschmack! Das Wirtshaus hat sich im Viertel zu einem Treffpunkt etabliert, an dem man gerne gemeinsam ein gutes Bier trinken geht. Bereiche mit langen Tischen und Bänken schaffen gesellige Zonen zum "Zamrutschen". Ruhige, gemütliche Ecken des raffiniert gestalteten und dekorierten Restaurantbereichs laden zum Verweilen ein – hier genießt man gerne ausgiebig feinste Speisen und Getränke mit Blick auf regelmäßig wechselnde Kunstwerke namhafter Künstler.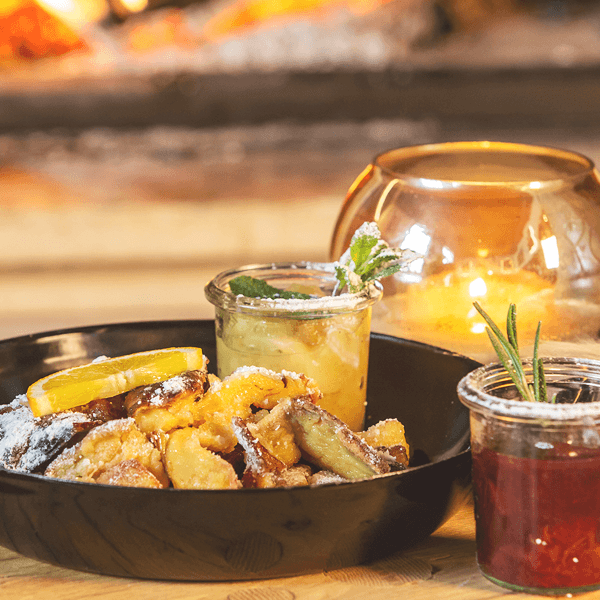 15 years ago, it was Florian Lechner's approach to quality that drove him out of the city and into the countryside. In the meantime, however, he has come to realize that city dwellers also appreciate his passion for quality products. Together with his team, led by Thomas Esseln, Florian Lechner is striving to bring ""the authenticity of the countryside"" into the bustling city. Guests will be able to enjoy superlative modern Bavarian cuisine and regional specialties. Our menu will naturally also retain a range of signature Bavarian brewery dishes.
The traditional beer garden with its chestnut trees and the famous fountain, featured in several TV commercials, offers more than 2.000 seats. The area is divided into two sections, the serviced garden and the big traditional self-service beer garden. The readers of a popular regional newspaper voted several times for the Paulaner Nockherberg to be Munich's most beautiful beer garden.
As a special highlight for your event or for your private pleasure, you can do curling all winter long in our popular beer garden. On two curling tracks you can compete with your friends or colleagues. There is no experience needed for this sportive amusement – only warm clothes and solid shoes are necessary.
€ 7,90 per person, per hour including equipment
The perfect room for any event
Manchmal ist man einfach gerne unter sich, oder der Anlass erfordert einen intimeren Rahmen. Wir sind nicht nur Ihr richtiger Ansprechpartner, wenn es um die großen Events geht. Im Paulaner am Nockherberg finden Sie unterschiedliche Gasträume, die in Stil und Größe variieren und zu jedem Anlass den perfekten Rahmen bilden. Werfen Sie einen Blick in unsere Gasträume!