Nockherberger Ur-Märzen is a strong, malt-flavoured Märzen beer – brewed with bottom fermentation. A top beer for connaisseurs and lovers of strong beer specialities.
PROFILE:
bottom-fermented / 15 % original wort / 6.3 % alcohol
malty base with light caramel notes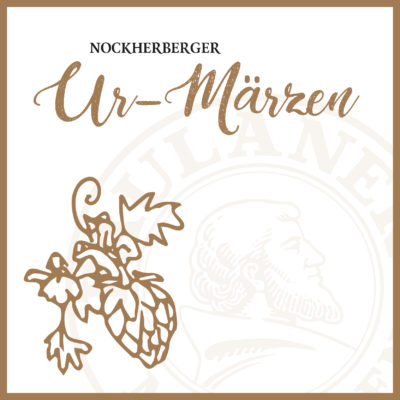 MORE SEASONAL BEER SPECIALTIES
Heart of the restaurant builds a brand-new inhouse brewery with two imposing brewing coppers in the center. This is where Uli Schindler, the master brewer, creates his seasonal beer specialties that can only be enjoyed here at the Paulaner Nockherberg.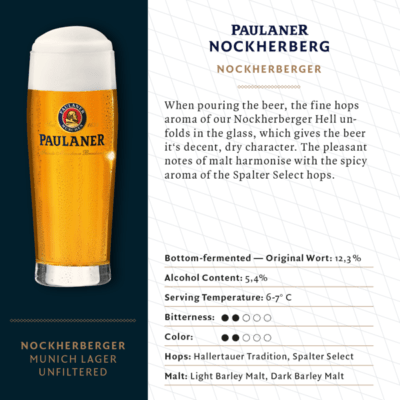 NOCKHERBERGER
Munich lager unfiltered
bottom-fermented, 12,3% original wort, 5,4% alcohol content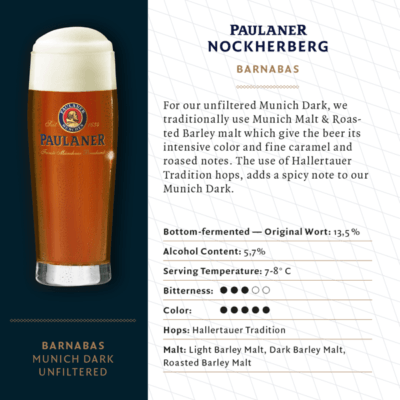 BARNABAS
Munich dark unfiltered
bottom-fermented, 13,5% original wort, 5,7% alcohol content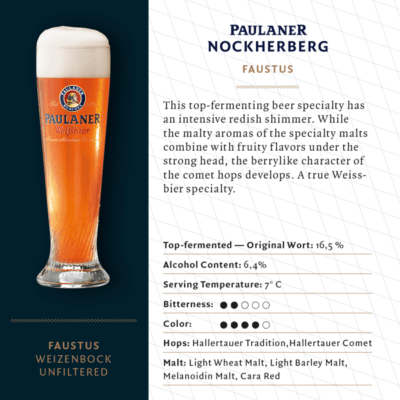 FAUSTUS
Weizenbock unfiltered
top-fermented, 16,5% original wort, 6,4% alcohol content
Immerse yourself in the world of beer and learn more about the perhaps most popular beverage in Bavaria. That`s why we offer you three ways of tours: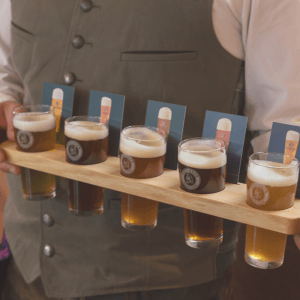 You can order the beer tasting in advance or spontaneously in the tavern and receive optionally a set with 5 or 10 samples. The set has cards with an accurate description of the different kinds of beer. Our service staff is also more than happy to biefly explain the various – often home-brewed – types of beer and their specialties. Please kindly note that the types of beer we serve are seasonal and subject to availability.
Price: set with 5 samples (€ 7,50) or ten samples (€ 15,00)
Where: Restaurant and serviced garden
Availability: Anytime, please ask our staff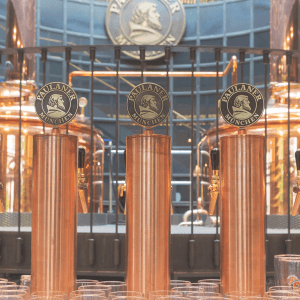 Experience our home-brewery and take a peek behind the scenes. The motto is "from the development of beer to your enjoyment".  All participants, who want to, can try three home-brewed beers at the end of the tour. You can take the tasting glass, as an souvenir, home with you and all attendees receive a certificate that proofs that they are "Nockherberg-Beer-Expert".
Please make sure to book a tour in advance. Teenagers under the age of 16 must be accompanied by an adult and children under the age of 6 are not allowed to join the tour for security reasons. You should wear closed, flat and sturdy shoes. Unfortunately, the tour is not barrier-free.
Attendees: Groups of 10 to 20 people (minimum age 16 years)
Price: € 28.- per person or € 280.- as a flat-rate for groups of less than 10 persons
Duration: approx. 1 hour, tours available in English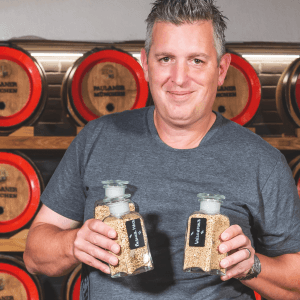 DINNER WITH A MASTER BREWER
For the ones who love beer and want to know everything about it:
Let's get lead through the Paulaner-brewery at Nockherberg by the master brewer, Uli Schindler, personally. There you will see a lot more about his work and the world of beer-brewing. Round off the day with a 3-course menu, which includes three matching home-brewed beers (0.1l).
Attendees: 10 to 30 people
Price: € 79.- per person
Dates: On request